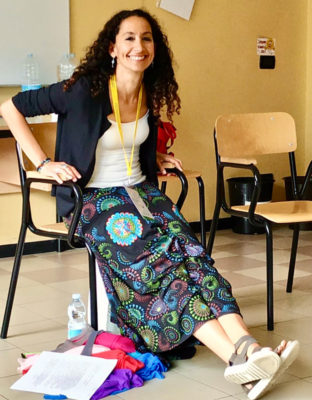 Workshops and Training Groups
For mental health professionals, making the commitment to learn about experiential therapy methods can be very exciting. However, deciding to become a certified as a practitioner of psychodrama or IFS can be a daunting process.  It is very important to find a trainer whom you trust and who is knowledgeable about the experiential therapies.
Valerie is a certified Trainer, Educator and Practitioner of psychodrama, sociometry and group psychotherapy and she fully grants hours toward psychodrama certification.  She believes that the method is best learned by a combination of didactic trainings and readings, experiential personal growth work, and hands-on practicum. Valerie incorporates parts work from Internal Family Systems into her trainings as a certified IFS therapist. 
Valerie runs workshops at her practice suite for professionals interested in learning about the method of psychodrama through educational and experiential personal growth sessions. As a certified experiential therapist,  Valerie can provide training hours for the International Society for Experiential Professionals.
Valerie also has a monthly, ongoing IFS-informed psychodrama training group on Thursday evenings for professionals. Those who are interested in becoming certified practitioners and trainers of psychodrama can count hours toward their certification. She runs weekend training and personal growth intensives in NYC and in the Hudson Valley, NY.
Valerie has taught professionals locally at New York University School of Social Work, the NASW Addictions Conference in NYC, and Lehman College School of Social Work in the Bronx. She also has trained professionals internationally the IAGP Conference in Iseo, Italy and Crossroads Antigua Addictions Treatment facility.  Please email her here to inquire about trainings and speaking engagements.
In addition, Valerie has been running monthly Open Psychodrama Workshops in the spirit of JL Moreno, the creator of psychodrama, since 2014. They are on the 2nd Thursday of the month from 6:30-8:30 PM and are an affordable option for people to experience the method in action. These Open Workshops can be counted toward certification hours as well.
All photos except bottom: Valerie training international practitioners at

 

Co-Creating and Connection in a Time of Disconnection

at the IAGP Conference in Iseo, Italy
Bottom center: 
Valerie's training professionals, 
The Body Remembers What the Mind Forgets – Treating Trauma with Experiential Methods,
at NYU Silver Social Work Continuing Education P
rogram 
Supervision
As a mental health professional, it is vital to find a supervisor whose clinical skills and professionalism you trust.  Valerie gained her SIFI certification at NYU Silver School of Social Work twenty years ago and has supervised social work and mental health counseling interns, creative arts therapists and new LMSW's. The journey to certification can be arduous, and Valerie is available to supervise LMSW's and creative arts therapists who are working on gaining hours toward their licensure.  Valerie offers a unique blend of clinical expertise and extensive training in psychodrama and Internal Family Systems in the supervision process.  She utilizes role-play, including the psychodramatic technique of reversing roles with a client to gain empathy and perspective.
Additionally, Valerie supervises professionals on the journey toward certification in psychodrama.  As a Trainer, Educator and Practitioner of psychodrama, Valerie is available to supervise trainees through their necessary 52 weeks of supervised experience. As a certified experiential therapist, Valerie can provide hours for the International Society for Experiential Professionals. Valerie is also a Certified Level III IFS therapist. For further information about training in IFS-informed psychodrama and experiential therapy with Valerie, please click here.
Contact Valerie here for further information about supervision and training opportunities.